Die Version 12 des FirstClass Servers wurde released.
Kunden mit gültigem ServiceVertrag erhalten das Upgrade automatisch über das Update Gateway des Herstellers auf Ihren FirstClass Server (siehe Ordner "FC Update Service"). Bitte stellen Sie unbedingt sicher, dass Sie für Ihren Server die passende FirstClass 12Lizenz erhalten haben und beachten Sie die Installationsanleitung bevor Sie das Upgrade durchführen.
Bitte setzen Sie sich mit uns in Verbindung, wenn Sie die ServicePacks trotz gültigem ServiceVertrag nicht erhalten haben oder wenn Ihr ServiceVertrag abgelaufen ist und Sie ein Angebot für die Verlängerung benötigen.
Mit freundlichen Grüßen
Yvonne Ewald
kki FirstClass Deutschland eK
Erlenweg 9 • 64665 Alsbach
Tel: +49 6257 940 0 • Fax: +49 6257 940 100
Offizieller Distributor für FirstClass und Third Party Zusatzprodukte
----------------------------------
AG Darmstadt HRA 6554
Inhaber: Andreas Kölsch
Please find below (and attached) the FirstClass 12 Release Announcement v1.1.
The new availability of the FirstClass 12 Network Store Contents upgrade has been added to the list of shipping product components.
---
FirstClass Division Product Bulletin
Title: OpenText FirstClass 12 Release Announcement
Bulletin Number: 277
Version: 1.1
Date: June 28, 2013
Audience
This Product Bulletin is intended for distribution to FirstClass Division's installed base Administrators, Customer Support Center team, Business Development Center team, Account Managers, and Channel Partners.
Description
This is an announcement of the general availability (GA) of FirstClass 12 for Windows, Mac OS X, and Linux platforms.
FirstClass 12 is a phased release. The new product components available in the first set are:
FirstClass Server 12 Build 1264 for Windows
FirstClass Internet Services 11.1 Build 11.137 for Windows
FirstClass Web Services 12 Build 35 for Windows

FirstClass Server 12 Build 1264 for Mac OS X
FirstClass Internet Services 11.1 Build 11.137 for Mac OS X
FirstClass Web Services 12 Build 35 for Mac OS X

FirstClass Internet Services 11.1 Build 11.137 for Linux
FirstClass Web Services 12 Build 35 for Linux

FirstClass Client 12.005 for Windows
FirstClass Client 12.005 for Mac OS X

FirstClass 12 Network Store Contents



Availability
FirstClass 12 component upgrade installers are available now to existing customers who have a valid maintenance and support contract. FirstClass Update Services will automatically download these to your server. If your server's Update Services schedule is turned off, you may manually initiate an Update Services request to receive the update.
FirstClass 12 for new installs will become available in the upcoming weeks for download from FCOL in the following locations:
Windows server New Install
Conferences/Downloads/FirstClass 12 Product Updates/FC12 Windows Server Updates/
Mac OS X server New Install
Conferences/Downloads/FirstClass 12 Product Updates/FC12 OS X Server Updates/
Linux server New Install
Conferences/Downloads/FirstClass 12 Product Updates/FC12 Linux Server Updates/
Please ensure that you have your server specific FirstClass 12 license, and review both the Release Notes and instructions accompanying the installers thoroughly before proceeding with the upgrade.
To renew or purchase your M&S contract, please contact your regional Sales Support Center listed at the end of this bulletin.
FirstClass 12
Powerful, secure and highly scalable collaboration platform that bridges the chasm between in-person and digital communication through rich, online communities.
FirstClass Connect, FirstClass Collaborate and FirstClass Communicate deliver the tools organizations need to achieve true, effective collaboration. With FirstClass, knowledge flows together naturally, circulates readily and is easily accessible across the organization, across geographies and amongst organizations. FirstClass empowers individuals and teams to work together towards a common goal, with a shared sense of purpose, driven by new ways to participate.
Collaborate
With its powerful and intuitive Web 2.0 interface FirstClass 12 provides a rich, social collaborative experience providing a platform to support your organizational initiatives such as culture and team building, on-boarding and training and internal -external support, all within a secure online environment.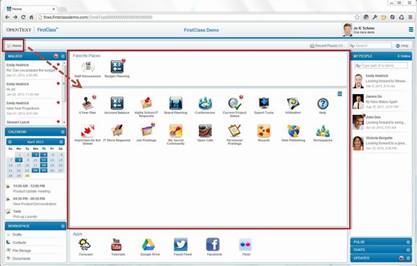 Organization, group and individual defined communities
Communities support threaded discussions, subfolders and calendars
Communities contain wikis and file storage areas
Support for rich text content, attachments, embedded images and videos
Drag and drop, and full editing capabilities
Directory and presence management











Communicate
FirstClass 12 offers fully functional email, voicemail and calendaring capabilities that enable users to securely communicate within the organization's online community or to external internet destinations.
Email and instant messaging
Calendars and scheduling
Contact management
Integrated unified communications (visual voicemail)
Fax













Personalize
A user-defined dashboard allows the individual to decide what is presented to them allowing the most productive and relevant experience for the user's individual role.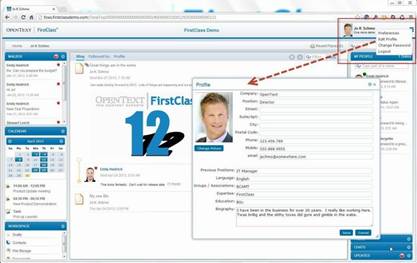 Customized Views
Personal Information Management and Workspace
Personal Profiles and Blogs
"My People" list and Status Updates
"Pin" Frequently Visited Content
"Follow" User-Defined Topics of Interest
Chat
Pulse











Open for Integration
The FirstClass open API allows integration with HTML 5 based applications providing one, central point for collaboration around an organization's valuable content.
oAuth Client support
Flexible group-membership access






Anytime - Anywhere Access
FirstClass is easily accessible from any internet-enabled computer or via our FirstClass Mobile applications that are available for the iPhone®, iPad®, BlackBerry® and Android®. Users can take FirstClass with them wherever they go and have all of the power of FirstClass in the palm of their hands - delivering a true "anytime, anywhere" mobile collaboration experience.
FirstClass, OpenText and the associated logos used herein are trademarks of Open Text Corporation and/or its subsidiary used under license. All other trademarks are the property of their respective owners.
End of Bulletin